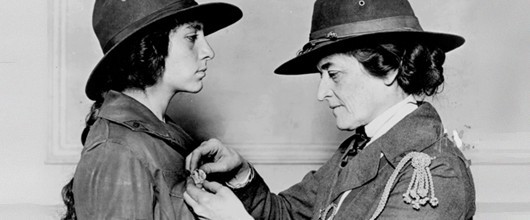 Planned Giving | Juliette Gordon Low Society
The Juliette Gordon Low Society recognizes donors who support the mission of Girl Scouts of Northern New Jersey even after their lifetime through planned giving. 
In March 1912, Juliette Gordon Low gathered just a few girls to begin the Girl Scouts. Juliette's outstanding leadership was matched by her stewardship when she converted the carriage house of her home into the first Girl Scout national headquarters, and she gifted to Girl Scouts in her will. Juliette's bequest was the beginning of planned giving to Girl Scouts.

In her memory, the Juliette Gordon Low Society was established to thank and honor friends of Girl Scouting who choose to make Girl Scouts part of their legacies and a beneficiary of their estate plans. Estate plans can include a will, retirement plan, living trust, donor advised fund, life insurance policy, charitable gift annuity, charitable remainder trust, charitable lead trust, remainder gift of real estate, and any other gift that benefits Girl Scouts in the future.
Thank you to our Juliette Gordon Low Society Members:
Anonymous
Eva and Erik Andersen
Janet Slater Anderson*
Lowell Ray Anderson*
Rosemary Anderson*
Hazel Balch*
Dianne Belk and Lawrence Calder Girl Scout Movement-wide Challenge Planned Gift
Elise Bennett*
Janet Boetticher

Wendy and Richard Bongo

Paulette Brauch

Denise Cannizzaro Garcia

Casey Croes

Veronica Curran*
Beverly Downing*
Lewis Dunham*
Esther and Robert Endres
Joy Sallovitz Firshein

Adrienne Fulcher

Betty and Andy Garger
Virginia Gibson

Lois Hargreaves*
Kathie Harrington
Susan A. Harwood
Dawn Hopper

Rosemary Iannone

Shanna Jafri
Benn W. Jesser*
John Henry Kemp, Jr.*
Roy Kennell*

Sandra Kenoff
Lorena Kirschner

Krista and Justin Korinis
Virginia Lee Laughlin
Meral Malady
Barbara McNally
Lydia Memoli*
Nancy Miaoulis*
Lori Miller
Sarah Molnoski

Danielle Nebres
Michelle Newhouse
Margaret Nicolais
Jessica Panagioutu
Lori and Paul Pimenta

Beth Purdy

Veronica Ross
Terry Schile-Morales

Marc J. Schumacher
Ruth Sebzda*
Candace Shanks

Ann Smart*
Jane Talpey*
James A. Tatem, Sr.*
Helen Troschsler*
Ruth A. Turner*
Barbara von dem Hagen

F.L. Wehran, Sr.*
Jeanie Winstrom in honor of Margaret Wend

Helen Wronski 
(*deceased member)
For more information, visit legacy.girlscouts.org or contact our Chief Development & Communications Officer Sandra Kenoff at skenoff@gsnnj.org or call her at (973) 248-8200.