All GSNNJ Council Service Centers and Shops will be closed Thursday through Saturday, November 22-24, 2018 for the Thanksgiving Day holiday. Happy Thanksgiving, Girl Scouts!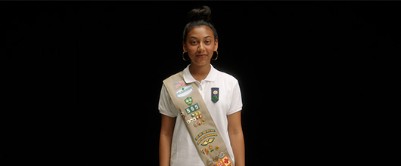 Whether your girl is part artist, part scientist, or part explorer, Girl Scouts is where she can pursue what she loves and blaze new trails. Here, girls take on leadership roles in a girl-led space and develop skills they'll use to make an impact. Watch the new video to see current Girl Scouts show the world they know who they are and what they're made of—they're all Girl Scout!
Continue >

Friendsbringing is a special FREE event for Girl Scouts in Grades K-5, who want their friends to join Girl Scouts, too! This special dance party will include fun games, a lesson in star gazing, crafts, snacks, and even a community service project. Bring a friend who wants to join Girl Scouts, and she can join for FREE! The fun takes place on Saturday, Dec. 1, 2018, from 3:00–5:00 p.m., at the Police Athletic League Youth Center of Parsippany. Celebrate friendship by giving the gift of a FREE Girl Scout Membership to your friend, and you'll earn a FREE patch.

Continue >

THANK YOU to The Provident Bank Foundation for supporting Girl Scouts of New Jersey Councils with funding for our 2018 New Jersey Statewide Girl Scout Volunteer Symposium! Feedback from our Volunteers has been overwhelmingly positive and they truly appreciated the information shared. The symposium, held on Nov. 3, 2018, addressed the unique challenges Girl Scout Volunteers encounter with regard to Inclusivity, Conflict Management, and addressing Children with Special Needs. The day included workshops, a keynote address, a panel discussion, and lunch. See photos from the event.
Continue >


Questions? Call Girl Scouts of Northern New Jersey Customer Care: (973) 248-8200