Sign up, today. Have fun all summer long! With an Extended-year Membership, girls entering Grades K-1 can join a virtual Troop, access online Program activities, participate in Daisy Flower Fun Days, get a Daisy by Mail activity booklet, earn Girl Scout petals and patches, plus more!
Continue >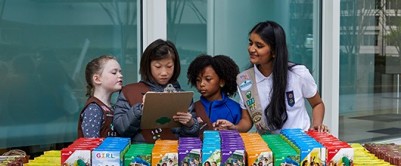 Adaptability, Attitude are Keys to Good Future Success
02 Jun 2020
CEO Betty Garger reminds us that anyone recent to the workforce or a member for years and decades, needs to keep learning new skills, adapt to trends emerging from your field of work, and keep up with ever-changing technology. (Op ed by CEO Betty Garger)
Information and resources regarding COVID-19 (updated)
27 May 2020
As Girl Scouts, the safety and well-being of our girls, volunteers, families, and staff are our primary concern, and we are taking appropriate measures to ensure girls continue to have a safe Girl Scout experience.
NOTICE: We are postponing or canceling all in-person events and activities through June 30, 2020. Virtual Programs and Highest Awards Workshops will continue to occur as published. Visit our Girl Scouts at Home web page for details.


Start: Fri Sep 25 2020, 6:30 PM EST

End: Sun Sep 27 2020, 10:30 AM EST

Location: Camp Glen Spey

Start: Fri Oct 02 2020, 6:30 PM EST

End: Sun Oct 04 2020, 10:30 AM EST

Location: Camp Glen Spey
Questions? Call Girl Scouts of Northern New Jersey Customer Care: (973) 248-8200
Or, email us at customercare@gsnnj.org