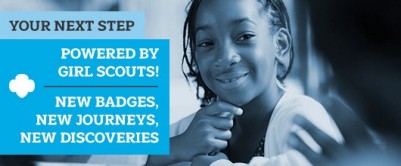 It's time to renew your girl's Girl Scout Membership for 2019-2020, and if you renew early enough, you can "save her spot," while earning some great rewards. So, why wait? Renew today, and earn patches, coupons, and more! Check out our  early renewal incentives.
Continue >

At Girl Scout camp, girls feel comfortable acquiring new skills in a safe and supportive all-girl environment in a community unlike any other. It's not too late to sign up for summer sessions at our Lake Rickabear or Jockey Hollow Day Camps or Celebrate Girls Paterson Summer Program. In our summer programs, girls learn such skills as boating, cooking, fishing, building survival huts, archery, and zip lining. They work on Girl Scout badges, attend field trips, play sports, participate in a book club, and try hands-on science and nature activities. Sign up for a fun-filled summer near you!
Continue >

Our Summer Bucket List Challenge 2019 is underway! Girl Scouts: simply download a copy of the challenge activities list, and complete enough activities to earn 100 points. Check off the ones you did, and bring your list to any GSNNJ Council Shop between July 1 and Sept. 7, 2019 to get your FREE Summer Bucket List 2019 patch! 
Continue >

Girl Scouts elect 2019-2020 Board of Directors, Officers
12 Jul 2019
Girl Scouts of Northern New Jersey (GSNNJ) installed new members to the Board of Directors at its Annual Meeting on Wednesday, May 15 at the College of Saint Elizabeth in Convent Station. This annual business meeting allows Girl Scout members to vote on candidates for the Board of Directors and any other council business.
Take the Summer Bucket List Challenge
27 Jun 2019
This summer, GSNNJ CEO Betty Garger challenges everyone to take a break and take Girl Scouts' "Summer Bucket List Challenge." Whether you are a kid or simply a kid at heart, here are a few fun things you can do either as a family, or by yourself to relax and create wonderful memories this summer.

Start: Fri Sep 27 2019, 7:00 PM

End: Sun Sep 29 2019, 10:00 AM

Location: Camp Glen Spey

Start: Tue Nov 05 2019, 2:00 PM

End: Sun Nov 10 2019, 11:00 AM

Location: Juliette Gordon Low Birthplace
Questions? Call Girl Scouts of Northern New Jersey Customer Care: (973) 248-8200
Or, email us at customercare@gsnnj.org