All GSNNJ Service Centers & Shops will be closed from Monday, Dec. 24 through Tuesday, Jan. 1. We will reopen on Wednesday, Jan. 2, 2019. Happy Holidays!

If you're a Girl Scout currently in the 11th grade, who is passionate about Girl Scouting, you are eligible for an incredible leadership opportunity to serve as a Girl Representative to the GSNNJ Board of Directors. Get involved, impact the lives of girls, and advocate for girl leadership. Girl Representatives provide a voice on behalf of all GSNNJ girl members, and have specific roles and responsibilities, including representing and attending GSNNJ Board meetings. Girl Scouts must apply for the position by submitting an application to our Board Development Committee by January 2, 2019. Those chosen will serve a one-year term, starting at the Annual Meeting on May 15, 2019.
Continue >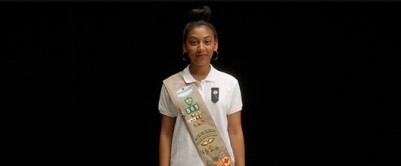 Whether your girl is part artist, part scientist, or part explorer, Girl Scouts is where she can pursue what she loves and blaze new trails. Here, girls take on leadership roles in a girl-led space and develop skills they'll use to make an impact. Watch the new video to see current Girl Scouts show the world they know who they are and what they're made of—they're all Girl Scout!
Continue >

Winter Warmth Drive is under way
01 Dec 2018
The GSNNJ Community is giving the gift of warmth this season with donations of NEW hats, mittens, gloves, and socks for children and adults during our Winter Warmth Drive, from December 1-19, 2018.

Questions? Call Girl Scouts of Northern New Jersey Customer Care: (973) 248-8200