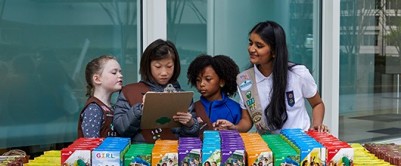 Chatham Girl Scouts Earn Gold Award - Naila Ismail 'Ban the Bag'
15 May 2020
GSNNJ Girl Scout Naila worked to raise awareness about the detrimental effects of single-use plastic bags and promote recycling of single-use plastic film, and through Bags to Benches by Trex Company, earned 2 recycled-materials benches for her community.
Information and resources regarding COVID-19 (updated)
12 May 2020
As Girl Scouts, the safety and well-being of our girls, volunteers, families, and staff are our primary concern, and we are taking appropriate measures to ensure girls continue to have a safe Girl Scout experience.
NOTICE: We are postponing or canceling all in-person events and activities through June 8, 2020. Virtual Programs and Highest Awards Workshops will continue to occur as published. Visit our Girl Scouts at Home web page for details.


Start: Fri Sep 25 2020, 6:30 PM EST

End: Sun Sep 27 2020, 10:30 AM EST

Location: Camp Glen Spey

Start: Fri Oct 02 2020, 6:30 PM EST

End: Sun Oct 04 2020, 10:30 AM EST

Location: Camp Glen Spey
Questions? Call Girl Scouts of Northern New Jersey Customer Care: (973) 248-8200
Or, email us at customercare@gsnnj.org