During this time of social distancing, there are still ways to keep our Girl Scouts and their families connected and engaged in Girl Scouting. Our staff continues to work on virtual program initiatives and we have added some badge-earning activities for every Girl Scout level on our new Girl Scouts at Home web page. Check it out!
Continue >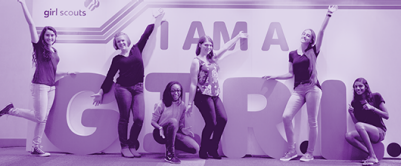 Be a part of one big, bold celebration! G.I.R.L. 2020 is a momentous chance to spark change through targeted conversation, leadership, and action—Girl Scout style. Join generations of Girl Scouts and their supporters from across the nation and around the world—register now for this once-in-a-lifetime experience!
Continue >


25 Mar 2020
CEO Betty Garger notes that while Girl Scouts today are rising to the new normal of social distancing and school closures, they are also flooding our community with messages of hope. (Op ed by CEO Betty Garger)
NOTICE: We are postponing or cancelling all events and activities through April 18, 2020.

Questions? Call Girl Scouts of Northern New Jersey Customer Care: (973) 248-8200
Or, email us at customercare@gsnnj.org