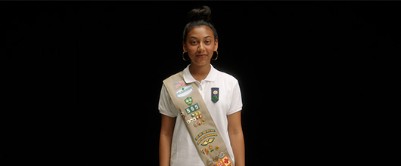 Whether your girl is part artist, part scientist, or part explorer, Girl Scouts is where she can pursue what she loves and blaze new trails. Here, girls take on leadership roles in a girl-led space and develop skills they'll use to make an impact. Watch the new video to see current Girl Scouts show the world they know who they are and what they're made of—they're all Girl Scout!
Continue >

See Disney on Ice: Frozen and Friends on January 4, 2019 (7-9 p.m.), with your sister Girl Scouts! Registration is now open. Hosted by Mickey and Minnie at Prudential Center in Newark, the fee for this adventure is $30 per ticket. Specific seating information can be found on the registration web page. Girl Scouts will receive a free fun patch!

Continue >

THANK YOU to The Provident Bank Foundation for supporting Girl Scouts of New Jersey Councils with funding for our 2018 New Jersey Statewide Girl Scout Volunteer Symposium! Feedback from our Volunteers has been overwhelmingly positive and they truly appreciated the information shared. The symposium, held on Nov. 3, 2018, addressed the unique challenges Girl Scout Volunteers encounter with regard to Inclusivity, Conflict Management, and addressing Children with Special Needs. The day included workshops, a keynote address, a panel discussion, and lunch. See photos from the event.
Continue >


Questions? Call Girl Scouts of Northern New Jersey Customer Care: (973) 248-8200