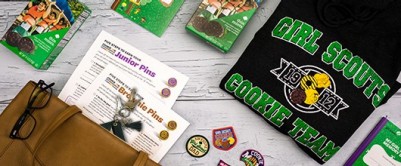 15 Montville Girl Scouts Attain Silver Award
11 Feb 2020
GSNNJ Girl Scouts from Troop 94559 and Troop 94916 of Montville recently earned their Girl Scout Silver Awards, and their take action projects addressed a variety of community issues such as animal rescue, support of refugees, recycling, and STEM instruction.
Green teen gets top state volunteer award
07 Feb 2020
GSNNJ Girl Scout Ambassador Isobel of Troop 1070 in Newton was named one of two New Jersey youth volunteers to receive the 2020 Prudential Spirit of Community Awards for her Weekend Bags Program. Each week, Isobel collects donated food and personal hygiene items for students in need, and delivers about 100 bags to elementary and middle schools within Sussex County.

Questions? Call Girl Scouts of Northern New Jersey Customer Care: (973) 248-8200
Or, email us at customercare@gsnnj.org