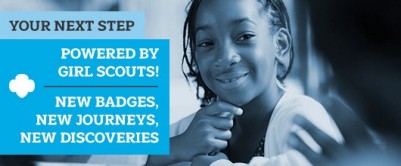 It's time to renew your girl's Girl Scout Membership for 2019-2020, and if you renew early enough, you can "save her spot," while earning some great rewards. So, why wait? Renew today, and earn patches, coupons, and more! Check out our  early renewal incentives.
Continue >

Through the new Extended-year Membership option available through June 30, 2019, NEW Girl Members (entering grades K-12, Fall 2019) and NEW Adult Members (parents, volunteers, and troop leaders) can register for an up to 17-month-extended-period ending Sept. 30, 2020, at a savings. You can begin your Girl Scout Leadership Experience now, and continue through the summer right into the traditional troop experience in the fall without paying double membership fees.
Continue >

Congratulations to GSNNJ's President/CEO Betty A. Garger, who was awarded the Paterson Alliance Extra Mile Award 2019. This award highlights the achievements and efforts of staff and volunteers within the non-profit sector serving the Paterson community, who have gone above and beyond the call of duty and who exude commitment and passion for their work, their organization, and the community of Paterson.
Continue >

All year long Girl Scouts unleash their ultimate potential to do amazing things for themselves and their communities. Bridging ceremonies are the perfect time to stop, take stock of every awesome adventure, and celebrate as we embrace the future!
Order Bridging Kits at Council Shops 
Continue >

Betty Garger Salutes Gold Award Girl Scouts
17 May 2019
The mission of Girl Scouts is to build girls of courage, confidence, and character, who make the world a better place. As the CEO of Girl Scouts of Northern New Jersey, I have the pleasure of seeing girls as young as five years old develop over the years to become strong, confident young women. Nothing shows the benefits of Girl Scouting more than our Gold Award Girl Scouts.
Girl Scouts of Northern New Jersey President Betty Garger Thanks Volunteers on Mother's Day
11 May 2019
As Mother's Day approaches, it is especially timely to thank all the mothers, grandmothers, aunts, and mother figures who also serve as Girl Scout volunteers. Every day throughout northern New Jersey, women serve as role models to more than 26,000 Girl Scouts. Our Girl Scouts are fortunate to have caring adults working with them; helping them navigate the world in an emotionally and physically safe space.

Questions? Call Girl Scouts of Northern New Jersey Customer Care: (973) 248-8200
Or, email us at customercare@gsnnj.org