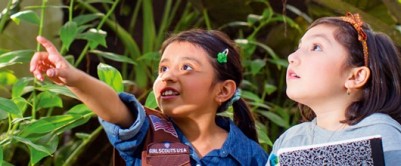 From the mightiest Daisy or Brownie to the most accomplished Gold Award Girl Scout, badges fuel girls' journey to success and beyond. And, with 42 new badges in STEM and Outdoor activities and one new Journey for 2019-2020, girls can choose from over 236 unique ways to lead their own adventure at Girl Scouts.
Continue >

Unlock your girl's potential with another year of exploration, adventure, and skill building. The badges she earns today will set her up for bigger achievements tomorrow. Renew her membership, today!
Continue >


Our Summer Bucket List Challenge 2019 continues. Have you downloaded a copy of the activities list? Just complete enough activities to earn 100 points, check off the ones you did, and bring your list to any GSNNJ Council Shop between July 1 and Sept. 7, 2019 to get your FREE Summer Bucket List 2019 patch!
Continue >

Girl Scouts elect 2019-2020 Board of Directors, Officers
12 Jul 2019
Girl Scouts of Northern New Jersey (GSNNJ) installed new members to the Board of Directors at its Annual Meeting on Wednesday, May 15 at the College of Saint Elizabeth in Convent Station. This annual business meeting allows Girl Scout members to vote on candidates for the Board of Directors and any other council business.

Start: Fri Sep 27 2019, 7:00 PM

End: Sun Sep 29 2019, 10:00 AM

Location: Camp Glen Spey

Start: Tue Nov 05 2019, 2:00 PM

End: Sun Nov 10 2019, 11:00 AM

Location: Juliette Gordon Low Birthplace
Questions? Call Girl Scouts of Northern New Jersey Customer Care: (973) 248-8200
Or, email us at customercare@gsnnj.org