Through the new Extended-year Membership option available through June 30, 2019, NEW Girl Members (entering grades K-12, Fall 2019) and NEW Adult Members (parents, volunteers, and troop leaders) can register for an up to 17-month-extended-period ending Sept. 30, 2020, at a savings. You can begin your Girl Scout Leadership Experience now, and continue through the summer right into the traditional troop experience in the fall without paying double membership fees.
Continue >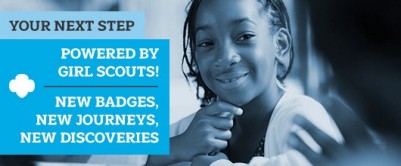 It's time to renew your girl's Girl Scout Membership for 2019-2020, and if you renew early enough, you can "save her spot," while earning some great rewards. So, why wait? Renew today, and earn patches, coupons, and more! Check out our  early renewal incentives.
Continue >

Congratulations to GSNNJ's President/CEO Betty A. Garger, who was awarded the Paterson Alliance Extra Mile Award 2019. This award highlights the achievements and efforts of staff and volunteers within the non-profit sector serving the Paterson community, who have gone above and beyond the call of duty and who exude commitment and passion for their work, their organization, and the community of Paterson.
Continue >

All year long Girl Scouts unleash their ultimate potential to do amazing things for themselves and their communities. Bridging ceremonies are the perfect time to stop, take stock of every awesome adventure, and celebrate as we embrace the future!
Order Bridging Kits at Council Shops 
Continue >

2 Morristown Girl Scouts Look to Empower Girls Through Soccer
04 May 2019
GSNNJ Girl Scout Cadettes Micaela Cassidy and Seleyna Bautista of Morristown Girl Scout Troop 94923 held the first session of their soccer clinic at the Morristown Neighborhood House (NABE). The clinic was the result of months of planning and hard work toward earning the Girl Scout Silver Award.

Questions? Call Girl Scouts of Northern New Jersey Customer Care: (973) 248-8200
Or, email us at customercare@gsnnj.org