The North Face and Girl Scouts will host a High-Adventure Badges Event on Jan. 17, 2020, at Ramsey Outdoors. This FREE fun-filled evening of activities for Girl Scouts of all ages, inspired by Girl Scouts' brand new outdoor high-adventure badges, will get girls excited to earn a Snow, Climbing, or Trail Adventure badge that will take them on amazing outdoor excursions. Plus, they'll meet inspirational female athlete and ultra-trail runner, Stephanie Violett. Space is limited, so register now!
Continue >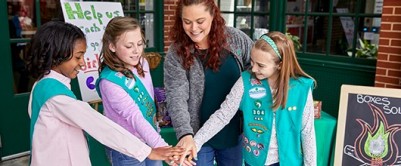 Have you heard the big news for Cookie Program 2020?! We've got a new addition to our cookie menu. New Lemon-Ups™ Girl Scout Cookies®! These crispy lemon cookies are baked with inspiring messages that will lift you up. Plus, also new this year—the Cookie Entrepreneur Family Pin collection. Celebrate your family's Cookie Program teamwork and be among the first to earn your pins. Are you ready to earn funds for troop activities and learn important business skills, too? Let's get started!
Continue >



Washington Township Girl Scouts earn their Gold Awards
07 Jan 2020
Congratulations to the six Gold Award Girl Scouts from GSNNJ Girl Scout Troop 80518 of Washington Township/Long Valley, who earned their Gold Awards in 2019. Four of these Gold Award Girl Scouts received their awards at a ceremony on Jan. 5, and CEO Betty Garger was in attendance.

Questions? Call Girl Scouts of Northern New Jersey Customer Care: (973) 248-8200
Or, email us at customercare@gsnnj.org