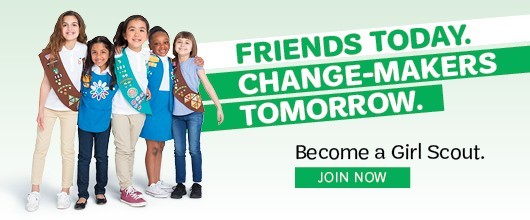 Membership Fee: $40 for Girls, $25 for Adults
(Membership Year 2019-2020, Oct. 1, 2019-Sept. 30, 2020)
When you unleash your inner G.I.R.L., you can accomplish anything!
At Girl Scouts, the next opportunity to stand up, speak up, and take the lead is never far away. With us, you'll discover the G.I.R.L. (Go-getter, Innovator, Risk-Taker, Leader)™ in you, and watch her shine, again and again.
Will you find a sustainable solution to a problem in your community? Will you explore the great outdoors? Build a robot? Learn to code? Conduct an experiment?
With us, the possibilities are truly endless. Discover all you can be and everything you can accomplish when you have the right tools and a safe space to shine—and work together to change the world. 
So what are you waiting for?
 
Need to know more so you can decide what's right for you? Check out all the different ways to take the lead at Girl Scouts. Or, see all the exciting possibilities Girl Scouts offers for girls of all ages and choose your adventure.
IMPORTANT NOTE: Membership fees are non-refundable. 
Sometimes traditional Girl Scout troops may not be immediately available in your community; paying for membership does not guarantee placement in a troop--but once you become a Girl Scout, there are lots of ways to unleash your inner go-getter, innovator, risk-taker, and leader!  Maybe it's a few weeks of summer camp, or taking your pick of fun, one-day programs on all sorts of topics, or even working solo on projects and skill-builders--joining means you'll have access to all sorts of great experiences.
Clicking JOIN TODAY starts the membership process; if you aren't sure what to choose, simply select "Unsure," and enter a comment when prompted. One of our staff members will be in touch to help you decide.